Today I got the third edition proof for The Artifact in the mail. Very exciting! Overall I'm happy with the book, the pictures look great and the text is crisp.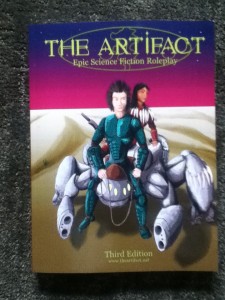 Before now I've gone with Lulu as a POD provider. I like Lulu as a company and they make good books. They also charge nearly double that CreateSpace charges. After getting my proof copy I think I understand why. The book from CreateSpace seems sturdy and the printing is well done but Lulu's quality is better. Instead of making vague statements, let me break that down as to why I say that.
The paper that Lulu puts into a book is a better quality. The pictures in a Lulu book are glossy so it's strange for me to see the CreateSpace book with matte pictures.
Lulu's books are 8 1/2 inches by 11 inches. The CreateSpace book is 8 1/4 by 11. Not a big difference but it matters for layout. It didn't hurt anything in my case but it was surprising. The odd thing, is that even though the third edition book from CreateSpace is much thicker than the second edition books from Lulu, the thicker book is lighter. I don't know if that has to do with the extra 1/4 of an inch of material on the Lulu book or if the paper is somehow heavier.
I used CreateSpace's cover designer to make the book's cover. Apparently it's still in beta, so I guess I shouldn't complain too much about this but the only adjustment you can make to text on the spine is the font color. The font that the text is in is the most boring font imaginable. You also can't change it's size or position. I found that frustrating.
The trimmed edges of the third edition book is rough. I've seen how books are bound and trimmed. There's this big press with a razor blade that comes down and slices off the excess material. The blade must be getting dull because the edge of the pages show telltale tracks from the cutting. Although now that I look at one of my Lulu books I see the same thing only less pronounced.
As far as things to be fixed, I missed a few orphaned headings and tables that are nearly impossible to find when looking at a document on the computer but easy to see when dealing with a printed book. I'm unsure if I'd get it right if I try making my own cover to fix the problem with the spine font. I'm not sure what to think of that. There are two or three pictures that are too low of a resolution to look good. They're old scans and I thought they might squeak by but no. Those will have to be fixed.
In the end, will I go with CreateSpace or Lulu? If I were just making a book to have my own copy of, I'd want the highest quality which would be Lulu. The issues I've brought up are worth the cost savings though. As it is I can offer The Artifact Third Edition for $39.99 on CreateSpace. If I went with Lulu the price would be near $70 for a full color 300 page book which is not reasonable for my purposes. I do remember Lulu's quality improving over time, maybe the same thing will happen with CreateSpace.
So with a few minor tweaks, I should have hard copy books available soon!