Report by: Warrant Officer Robert Smith
Position: Field Scientist, Juliet Company
Assigned Objective: Observation of Scimrahn to Kelrath negotiations
Purpose of Mission: Provide documentation and observe Kelrath business and cross cultural relations.
Progress Report: The Raid that we had observed earlier was on a vessel owned by a Kelrath that the tribe had not worked with before.  The vessel's records say that it is owned by a Kaloord named Hessik Rannil of the city Gethilsichk. Two representatives from the tribe and myself will travel to the city and make contact with Hessik Rannil.
Chiah-boch and Feraw will represent the tribe in the negotiation. They have contacted a Kelrath merchant that they have worked with before. We will remain hidden in cargo containers that the merchant will bring to Gethilsichk to trade.
Update: We were successfully smuggled into the city where we had the opportunity to observe the Rantaa' addressing the city.
There seems to be a good deal of unrest in the city. Although the Rantaa' has the confidence of the Kaloord, the Geetin and the Gijorn class are unhappy about treatment they've received at the hands of the Kaloord. Apparently the Gijorn generals felt they could put some pressure on the Rantaa' and get some relief. I was not able to follow the whole speech but Feraw tells me it does not look like the Rantaa' is going to bow to pressure. The speech was to give the Kelrath new authority to discipline the lower castes.
The way things normally work is that the Kaloord have Geetin on loan from the Rantaa' and if any die, they have to justify the loss to the Rantaa'. The new disciplinary measures allow the Kelrath to loose up to ten Geetin a year without having to report to the Rantaa'.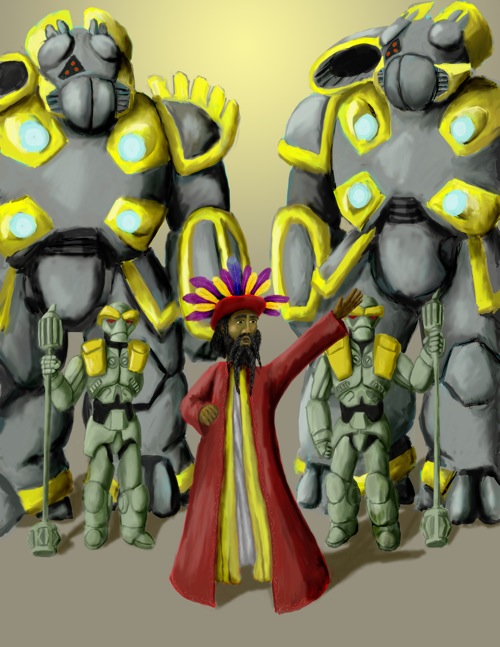 Chiah-boch and Feraw have decided to back out of trying to negotiate in this city. We will leave tomorrow. This choice is not made lightly, the Kelrath that brought us here has been paid very well for smuggling us in here.