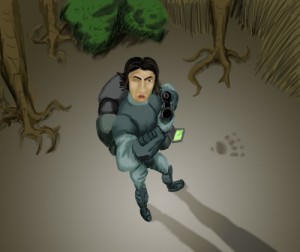 Patrol Report: Chun Gwok
The missing girl disappeared sixteen hours ago. Her parents report that she had the habit of venturing out into the forest around the colony with some of the local Scimrahn children.
I've tracked her path through the woods. At first her path was straight, she knew where she was going but now it has become curving and looping. She may be lost or ill.
Something big has picked up her trail before I did, something predatory. I don't recognize the track.
I'm sending up a drone to see ahead and cover ground quickly. There may not be much time left for her.