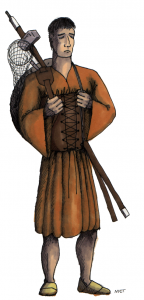 Player – Yeah, we've got food.
GM – You have enough for the whole trip?
Player – Um, yeah, sure we do.
No one wants to deal with tracking consumables. It's not fun. Most consumables just get ignored anyway. The player says "I've got a hundred, if I don't bother to erase one or two, it won't matter." The GM says "Okay mark it off your equipment." and hopes the players are keeping an exact accounting. It's good enough in most games because the players are usually good about being accurate with Hit Points and money but if you try to add any more accounting and everyone starts to gloss over it as unimportant.
But what about when those consumables, like food, is important to the story of a survival game? Even if you tell players it's important, they don't want to have to deal with it. Maybe it's the modern day concept of food that makes tracking food hard. After all if you're hungry, just pop over to the kitchen and eat something.
The GM can try to keep track of it but it's not a lot of fun and for some reason the players feel that the GM is just trying to doom them by forcing them to run out of food. The players don't buy into the idea of food scarcity.
Breaking it down
One of the problems in tracking food is that we don't eat in units. We eat in meals but how much is a meal? How much volume, how much mass? Backpackers have to think about this question a lot and usually think about how much food they need for the day in terms of mass (or weight). Backpackers fine tune their food for the most calories for it's weight and it would make sense that an adventurer would do something similar. Ultralight backpackers talk about carrying 0.7 Kg (1.5 Lb) of food per day but most backpackers say that's too little to subsist on comfortably. It does give us a good baseline though of what a minimum for an active person's needs.
So then, if we just go by mass, if a character carried 25 Kg of food, they could carry 35 days worth of food. Unfortunately, that's pretty unrealistic. The reason is that although the food is light, it's bulky. In my experience when I would go backpacking we could carry four days of food comfortably and we figured that if we wanted to, we could conceivably pack for eight days but that would be almost all we were carrying besides our tent and sleeping bag.
This is our second benchmark then, lets say 4 days of optimally chosen food takes up one third of a large backpack but only has a mass of 2.8-4 Kg.
So what does that do for us? A large backpack represents almost the limit of what a human can practically carry as far as bulk. The GM can now say "How much of your pack(s) are you devoting to food? Four days takes up a third of the pack." Negotiating a pack's contents should be a little more manageable for the players. Now everyone knows they can travel for four, eight or twelve days. Just don't forget to bring water. . .
Next up, Rationing Mechanics.